Five Questions to Ask Luxury Car Dealers Near Me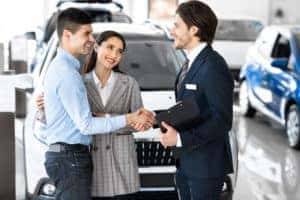 We've compiled five questions to ask luxury car dealers near me to help you shop for a new vehicle.
How Much Can I Afford?
Before you shop, it's best to know how much you can afford. An auto payment calculator can help you quickly get an estimate on your monthly payment. Then, you'll want to consult with our financial experts to determine the total investment you'll be approved for.
What Kind of Specials Do You Have?
It's best to check out our new vehicle specials to see if there's one you want to take advantage of. There are always a plethora of manufacturer offers and incentives going on too. You want to ensure you are always getting the best price for your new vehicle.
Is it Better to Buy or Lease?
There are benefits to both buying or leasing; it all depends on your needs out of a new car.
Buying – ideal for shoppers looking to build up equity in their vehicle and work towards living without a car payment.
Leasing – best for shoppers looking to get into a new vehicle for less. Plus, you'll have the advantage of newer technology and warranty coverage.
What's the Certified Pre-Owned Difference?
You get added peace of mind shopping for a pre-owned luxury vehicle by considering a certified pre-owned model. These vehicles go through a meticulous inspection to ensure they work like new. They include added warranty protection to protect you after you leave the lot too.
What Do Your Customers Have to Say About You?
You'll easily be able to spot the best luxury car dealers near you because they'll have the best reviews. We have a plethora of testimonials on our site to let you know why you should do business with Maserati of Birmingham. Come see for yourself!