Maserati vs. BMW: the 2021 Maserati Ghibli and the 2021 BMW 5 Series Compared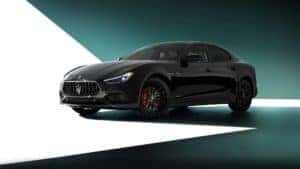 The Maserati vs. BMW debate has been ongoing for years in the luxury sedan field. However, Maserati of Birmingham is here to settle the score. Both manufacturers create stellar, luxurious vehicles but when it comes to the 2021 Maserati Ghibli and the 2021 BMW 5 Series, the winner is clear.
Here's how these two vehicles stack up against each other.
Maserati Performance vs. BMW Engines
It's no surprise that both of these luxury vehicles offer drivers exceptional performance numbers; however, the Maserati Ghibli dominates in this area.
The 2021 Maserati Ghibli sports a twin-turbocharged 3.0-liter V6 engine, while the BMW 5 Series features a TwinPower Turbo 2.0-liter engine. As a result, the new Maserati Ghibli manages to deliver an impressive 345 horsepower, whereas the BMW 5 Series can only generate 248 horsepower.
So, even though both of these vehicles come standard with rear-wheel drive and offer all-wheel drive on select trims, the 2021 Maserati Ghibli still manages to come out on top.
Maserati Safety Features vs. BMW Technology
For precise handling and safe driving, you can't go wrong with either the new BMW 5 Series or the 2021 Maserati Ghibli. However, when comparing the two vehicles, it's clear to see that the new Maserati Ghibli is the safer option.
For starters, while both vehicles come standard with a backup camera and blind-spot monitoring, only the new Maserati Ghibli comes equipped with automatic emergency braking with pedestrian detection. Plus, the Apple CarPlay© comes standard in the 2021 Maserati Ghibli, whereas it's only available as an upgrade for the new BMW 5 Series.
Buy a New Maserati Ghibli Today
Now that you know who reigns supreme when it comes to Maserati vs. BMW, it's time to test-drive the new Maserati Ghibli. Head to our Maserati dealership near Hoover to start driving the vehicle of your dreams. Visit us today!